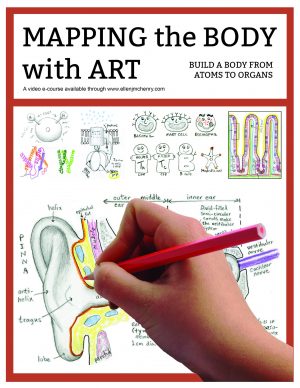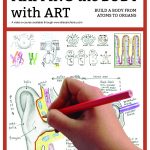 MAPPING THE BODY with ART: Paperback Workbook
$26.95
Do you hate printing on your home computer?
Don't have access to a very good home computer?
Worry about your jet printed images smearing or fading?
Have a student who loses individual papers?
Never fear, the workbook is here!
This workbook contains all the template pages and info pages for the whole Mapping the Body with Art video course.
NOTE:  This can also be ordered on Amazon.
Description
Additional information
Description
VIDEO REVIEW of this curriculum: https://youtu.be/SjfmupoGNQQ
Just hand this to your student and they are good to go for the entire year!  In addition to ALL the template pages and info pages (almost 200 pages!), there are 1/4-page-size color samples of the final drawings in the back of the book.  Full page samples can still be viewed or printed from each lesson page, but these little samples might even save you from having to print those.
And… if you find it hard to print in color,  you'll be glad to know that I put some additional color pattern pages in the back of the book that can be removed and used when you come to various games during the year, (such as the Cellular Respiration Game).  These game pages might be a little better if printed on card stock, but you might even be able to mount these flimsy pages onto poster board to stiffen them up if you want to.  (You'll still have to print the black and white pages that go with these games.)
Going to color made it more expensive to print, so I am keeping the price as low as I possible can.  I know you are already purchasing the video course.  However, I think this paperback will be worth its price for many of you.
NOTE:  You can also order this workbook through Amazon.
Additional information
| | |
| --- | --- |
| Weight | 1.11 lbs |
| Dimensions | 11 × 8.5 × .75 in |