HPT 101: Lesson 8: Ocean Trenches
ellenjmchenry

In this lesson we learn the standard explanation for the ocean trenches (and the many problems with this explanation) then we learn the HPT explanation.

****************************
VIDEOS:
A 12-minute tour around the globe using Google Earth.

Template page to download and print: HPT101 8B template page
(No template page for this one.)
Video 8C snack idea:  Ritz crackers with peanut butter.  I will talk about how this simulates what happened to the floor of the Pacific Ocean.
*******************************************************
Suggested activities for this lesson:
Activity 8.1:  Try the can crushing experiment

https://www.youtube.com/watch?v=qXclcimrmfI
Activity 8.2:  VIDEO LAB: Watch me demonstrate what crossover depth is

Demo to watch:  https://www.youtube.com/watch?v=TP4-Zw9DDsA
If you'd like to do this demo yourself, here are the instructions for how to make it:
Activity 8.3:  PAPER CRAFT PROJECT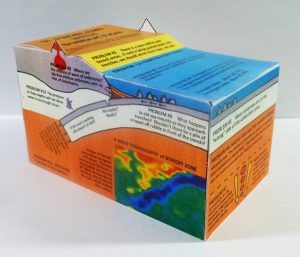 Download and print the pattern onto regular weight card stock.  Use regular paper if you can't print on card stock.  If you can't print in color, go ahead and print in black and white.
3D paper model–problems with subduction
Activity 8.4

********************************************
SUGGESTED FOLLOW-UP ACTIVITIES for students using this course for credit:
READING:  Pages 153-162 in the ITB flipbook.

The videos in this lesson have not addressed everything mentioned on these pages, but we've gone over enough that they should be readable.  We will hit a few of these topics (melting the inner earth and how earth shrank) in future lessons, so you'll get a preview on those.