Sheep Herding Math Strategy Game
joakman
Sheep Herding Math Strategy Game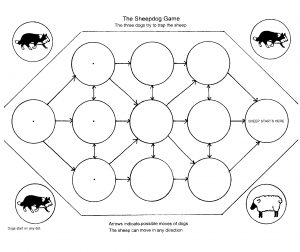 Purpose of game:
To develop mathematical logic skills
Target age group:
any
Description of game:
This is a two-player game.  One person plays the sheep, the other is the border collie.  This is a classic strategy game that you can find in many forms, most commonly has "Hares and Hounds."  (As you can see from the banner picture at the top of my website, I am partial to border collies and I guess I work them in wherever I can.)
Time needed:
Each game might only take a minute or two. It's a game you play over and over again, learning more about strategy each time.
Materials you will need:
Just the pattern page and a pair of scissors.