Professor Pig's Magic Math (a "mini-curricula")
joakman
Professor Pig's Magic Math (a "mini-curricula")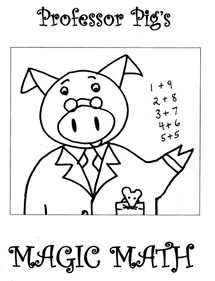 Professor Pig's Magic Math is all about thinking like a mathematician.  People who are good at math don't just memorize facts!  They understand numbers and they see number patterns everywhere.  Professor Pig begins by teaching his students the "magic numbers":  the numbers that add up to 10.  Using these five facts as a base, student are taught to see patterns that will allow them to easily add facts like 8+3 and 7+5, without any memorization.  Stacks of many numbers are easily added using these number patterns.
Professor Pig uses oodles of games and activities to review and practice.  No boring worksheets!  When there is a worksheet, specific instructions are given as how to attack it. If your student balks at traditional workbooks, I highly recommend trying Professor Pig's Magic Math.
Target age group:
Ages 5-8, but possibly older (the Magic Numbers concept might even help a struggling math student of any age)
NOTE:  I have posted everything I have written for Professor Pig. Perhaps someday I will get back to it and add more chapters, as I had originally intended.  But for right now, this is all I have.  So sorry to disappoint all you Professor Pig fans out there. I know it would be great to be able to have Professor Pig as your teacher all the way through elementary school, but I have so many other pressing projects going on right now I am simply unable to produce more chapters.  My most sincere apologies.  (It won't be too long until I have grandchildren in this age group, at which time I might develop… well, who knows what I will think of. Perhaps he'll be animated by then.  But in the mean time, have fun with these chapters and don't hesitate to create some of your own adventures with the Professor.)
The chapters are posted as individual downloads because some people's computers have trouble downloading them all at once.
Click here to download chapter 1
Click here to download chapter 2
Click here to download chapter 3
Click here to download chapter 4
Click here to download chapter 5