"Pond Scum" (a game about protozoa)
joakman
"Pond Scum"  (a game about protozoa)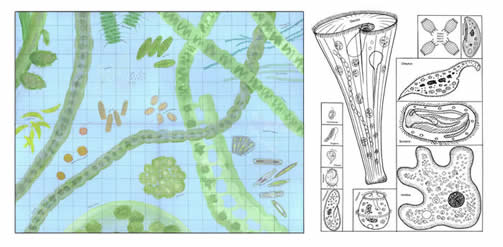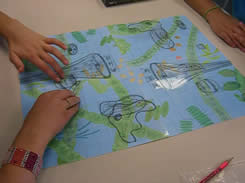 Purpose of game:
To learn about protozoa and their feeding habits
Target age group:
Ages 10-14, possibly younger
Description of game:
A board game with protozoa playing pieces.  It is a two-player game similar to chess.  There are rules about how each piece moves and what it can eat.  Players try to "eat" the opponents players to win.
Time needed:
Allow at least 10-15 minutes to cut out pieces and assemble board.  Then allow 10 minutes to explain the rules of hte game and rules for who can eat what.  Actual playing time can vary.  I advise at least 30 minutes.  The best scenario would be to do the game in two sessions.  The first session would be assembly, learning rules, and a quick trial game.  The second session would be some real (competitive) games.  A game can take anywhere from 10-30+ minutes, depending on the temperament of the players.
Materials you will need:
Print out the four full-color board pieces onto card stock, plus you will need two photocopies printed onto transparencies (plus scissors, tape and red permanent marker)
Click here to download "Pond Scum" patterns and instructions
NOTE:  If you would like FREE info to go along with the game, you are in luck.  I have a guide to protozoa, plus two free chapters on ciliates!
Click here to download the protozoa guidebook
For the two free chapters, go to the store, click on "Protoza; A Poseidon Adventure," and you will see the two chapters listed for free download.