Pennsylvania Geology Game
joakman
Pennsylvania Geology Game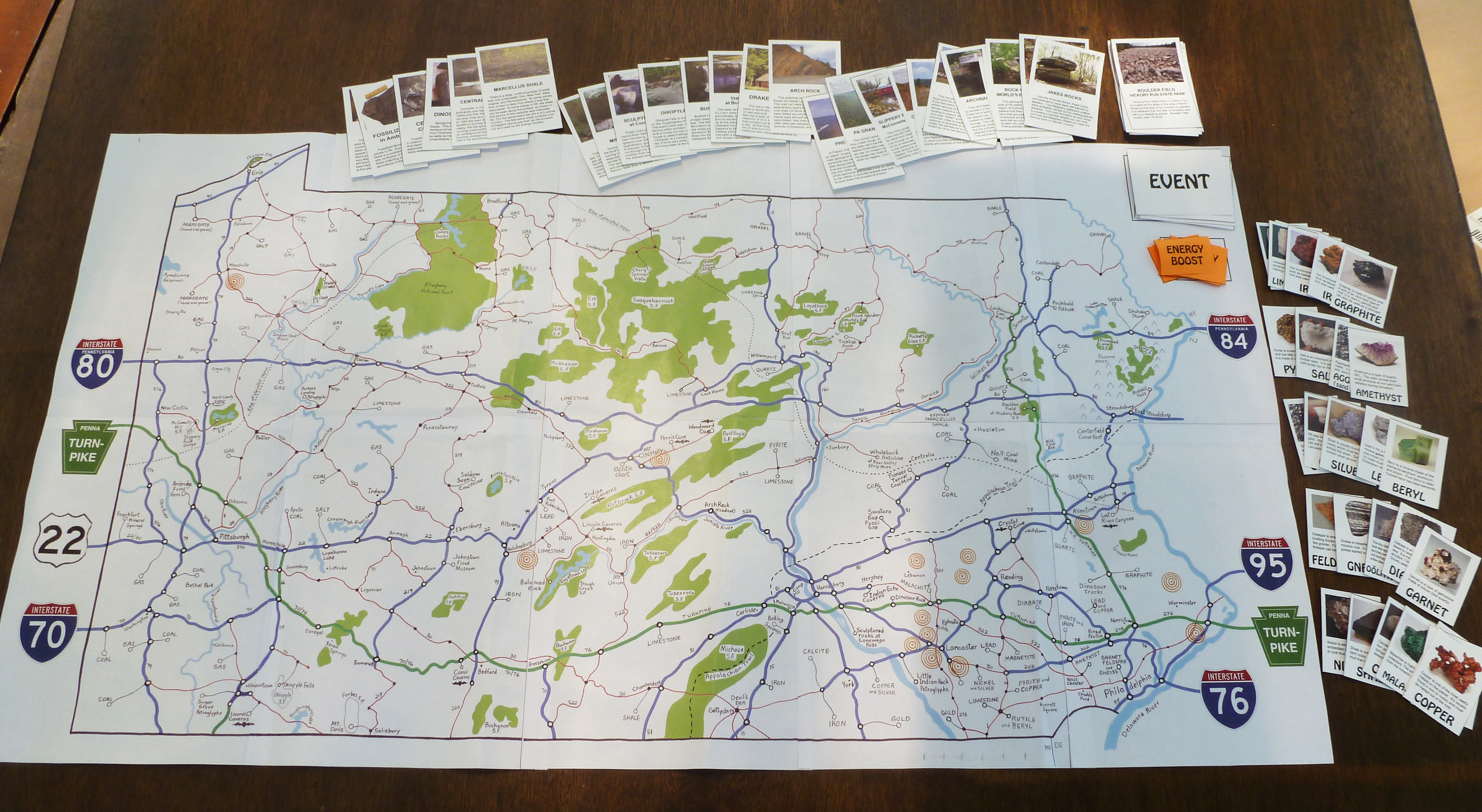 Purpose of game:
To learn about the geography, rocks, minerals and natural resources of Pennsylvania.
Target age group:
10 to 13, but high schoolers would enjoy it, too.
Number of players:
2 to 4 (for more players, just make more copies of the game)
Time to assemble:
Allow at least 20 minutes (not including copying time)
Time to play:
Game time is flexible and can be adjusted by assign more or less task cards. A short game would be 30 minutes.  A longer game could go well over an hour.
Materials needed:
Copies of the pattern pages (most in color, some black and white), scissors, glue stick, a die, a piece of thin clear plastic, and some permanent markers (only need them for one dot of color, though, and you might be able to substitue a dot of paint or something else you have around the house).
Summary of game:
Players are given "task cards" to complete: geology sites to visit and rocks and minerals to collect.  Sites include ancient petroglyphs, coal mines, caves, state parks, waterfalls, scenic overviews and gorges, glacial formations, and notable rock formations such as Balanced Rock, Dinosaur Rock, Ticklish Rock and the Shohola Stone.  (Never heard of those rocks?  You need to play the game!) Site cards give a little bit of information about each one.  The instructions page has some extra resources listed such as an online mineral gallery to visit, a free PDF booklet about PA minerals, and a playlist with videos of many of the sites.  (With these extra resources, you could turn the game into a mini unit study.)
There are also ENERGY BOOST cards that you collect when you land on GAS or COAL deposits (these give you an extra roll when you need it) and EVENT CARDS that mix things up a bit with quiz questions, helicopter rides, closed roads, earthquakes, flooded roads, sinkholes, and chances to swap cards with other players.  Often, the event cards involve all of the players, so there is very little "down time" waiting for your next turn.
NOTE:  This game is "origins neutral" and does not give ages of rocks.  The game is entirely suitable for your students no matter whether you favor secular materials or religious ones.  It's great for everyone!
VIRTUAL FIELD TRIPS:

Virtual visits to some of these places are available via a YouTube playlist:  www.youtube.com/thebasementworkshop.  Click to see all playlists, then find the PA Game.
____________________________
The file was too large to upload all at once, so I broke it down into smaller chunks.
PAGeologyGame_instructions and event cards
PAGeologyGame_board pieces 1 to 5