Glow-in-the-dark deep sea fish (art project)
joakman
Glow-in-the-dark deep sea fish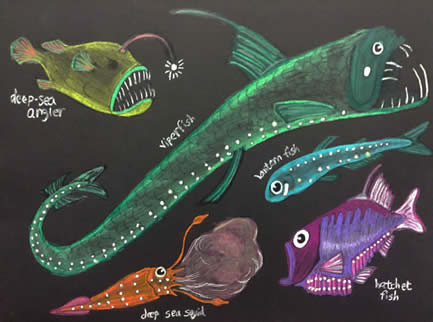 This sample was colored by one of my middle school students. The white dots glow in the dark.
Purpose of activity:
To learn about the luminescence of deep sea fish as well as to enjoy doing an art project.
Description of activity:
A pattern is printed onto black paper.  Students use colored pencils (see recommendation below) or crayons to color fish, then add glow-in-the-dark highlights on the areas that really do glow.
Target age group:
any age
Time needed:
15-30 minutes, depending upon how fast the students color
Materials needed:
Copies on black paper, colored pencils or crayons (I always recommend Berol Prismacolor pencils, especially for a project like this where you are coloring light onto black), glow-in-the-dark paint (easily available in most craft stores or any store that carries a reasonable selection of acrylic craft paints)
Click here to download pattern pages
Click here to find a set of Berol Prismacolor pencils on Amazon (24 pencils for about $20)