Geography Day
ellenjmchenry

GEOGRAPHY DAY (Dec. 13, 2018)
Links to the the videos we used in the seminars are posted below, under the title of the seminar, in case participants want to view them again, or for visitors to this site who might like to use them in their own STEAM classes.

PHOTOS of the event: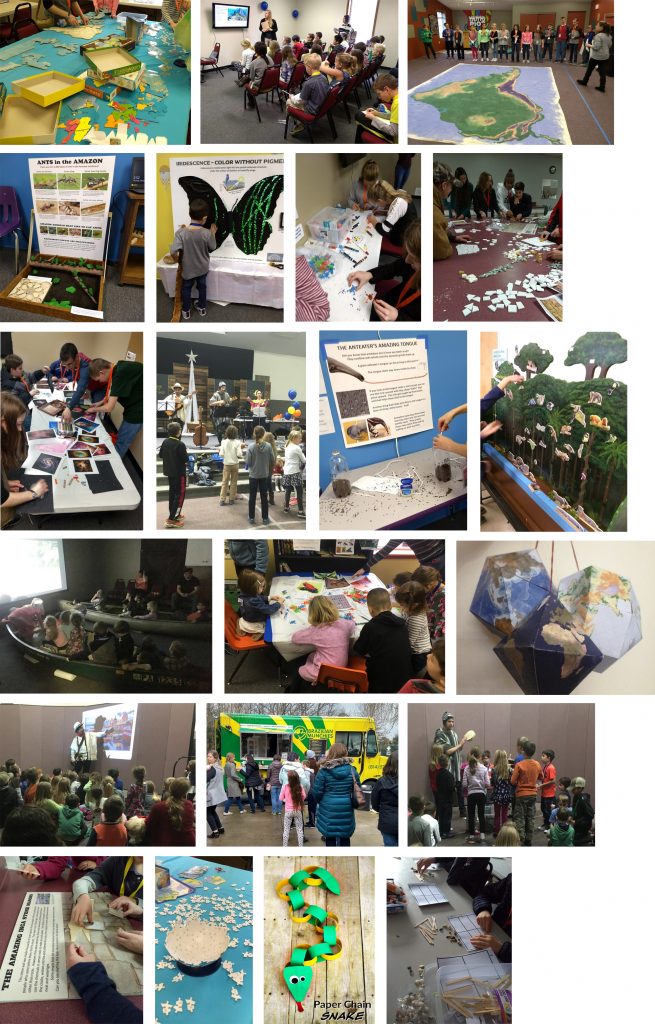 ***********************
Descriptions of seminars:
Geography Bee:   Each age group will participate in a separate bee.  Bee will not be traditional format, but more like a power point presentation with pictures and questions and multiple choice answers.  Even if you don't know anything about South America, you will enjoy learning lots of interesting facts!

Mayan Math:  Explore the concept of counting in bases other than base 10.   We'll watch a video clip that reviews the concepts of our base 10 number system, then see how the Mayans counted in base 20.  (In base 20, the number twenty looks like "10.")  Then we'll use what the Mayans did– sticks, stones, and shells– to add and subtract numbers in base 20.  This will be a very hands-on seminar.

Mayan base 20 system:  https://www.youtube.com/watch?v=Ybvb7oy_WV0&t=3s
Adding and subtracting in base 20:  https://www.youtube.com/watch?v=F53HuD2lcb8&t=55s
Hands on activity: https://www.youtube.com/watch?v=VmZjPVT2M20&t=442s
Mayan calendar explained in 2 minutes:  https://www.youtube.com/watch?v=qhWItvjk9Yg
Incan Quipu math:  The Incans did not have an alphabet or any type of written language. However, they did have a way to record numbers, and that was by tying knots in long strings.  They used base 10, like we do, and and had areas on the string for ones, tens and hundreds places.  We'll watch a short interview with a modern Incan who studies ancient quipus, and then we will make our own quipu and record some large numbers.
"Threads that speak":  https://www.youtube.com/watch?v=AmPyz1kCbOw
Inca knots:  https://www.youtube.com/watch?v=ZvU-WVBXn9c
Map Projections:  A projection is a way to put the round globe onto a flat surface.  We'll watch a short video called "Why all maps are wrong" and then see some of the many ways that the globe can be broken apart to be put on paper.  We will follow this up with a craft project where a flat projection can be folded up to make a paper globe ornament.  Students can choose an octahedron, icosahedron, or 26-sided figure.
"Why All Maps Are Wrong":  https://www.youtube.com/watch?v=kIID5FDi2JQ&t=13s
"The Sky We Don't See":  We will watch a 25-minute planetarium show put together by some university astronomy students who wanted to show people in the northern hemisphere what the sky looks like in the southern hemisphere.  People in South America, South Africa and Australia see different constellations, and they also see spectacular nebulae.  We'll look at particular nebulae from the southern sky, and then we will do a follow-up art project where we will draw a colorful nebula using chalk pastels.  A great science-art connection!   https://www.youtube.com/watch?v=DpDwQYgNKgQ&t=14s
How to make a pastel nebula:  https://www.youtube.com/watch?v=JDtBCS7FTWc
How to make a starry background for your nebula:  https://www.youtube.com/watch?v=M6O4hTzw6UI
Inca Engineering:  The ancient Incas were amazing construction engineers!  They built cities with erosion-resistant terraces, underground drainage systems, aquaducts, stone building, and sturdy bridges.  We'll look at some of their structures that have withstood the test of time, then we'll do some hands-on activities that simulate their engineering feats.   https://www.youtube.com/watch?v=kB3TT2ciSCc&t=5s
South American map bean bag toss:   We have a HUGE floor map of South America that can make learning geography fun!  We'll play some games that reinforce the locations of countries and land features.
Puzzle and game room:  We'll have one room dedicated to geography puzzles and games for all ages.
Virtual boat ride:  Sit in a canoe (yes, we are bringing real canoes inside the building!) and experience our home-version of  an IMAX video letting you experience canoeing at various places in the Amazon basin.  Then, as an added bonus, ride the "Amazon River Quest" boat ride at the Singapore Zoo.  This zoo features animals of the amazon such as monkeys, jaguars, flamingoes, caypbaras, and anteaters.
Music from Colombia:  For the preK, E1 and E2 groups, a half hour of participatory South American music.  The kids will get to use a variety of rhythm instruments, some from Peru and Chile.
Paint a dart frog:   This project will be set up in the puzzle room.  Use paint markers to decorate your own poison dart frog.
Make a paper chain anaconda:  Learn about the world's largest snake, the green anaconda, then make your own anaconda using paper rings.  (Very cute paper pet!)
Exploration Room activities:  (for preK, E1 and E2) Various activities will allow students to learn about the layers of the rainforest, ants of the Amazon, iridescent butterflies, small fossils and more.  Special features include dozens of stuffed animals representing the fauna of South America, and a Colombian gemstone mine they can climb into (wearing a hard hat with a light) to search for green emeralds.