DESERT UNIT STUDY IDEAS
ellenjmchenry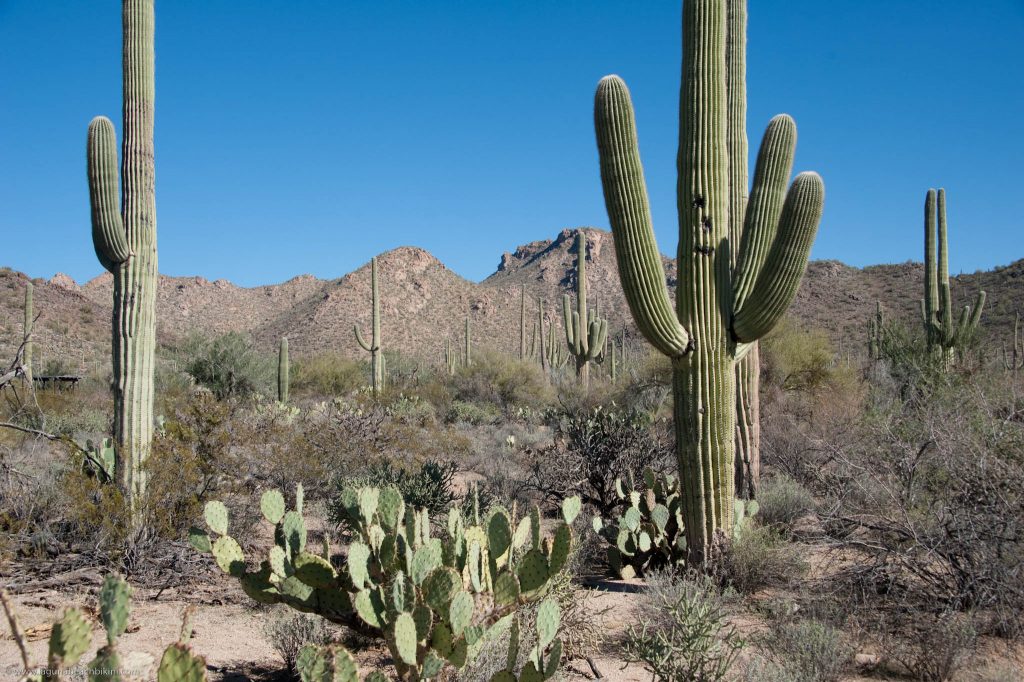 Here are some resources I created when our group did a unit study on deserts. We used lots of picture books and non-fiction books from our library, plus many short video clips that were appropriate for use in class.
I posted many of the videos we used on a playlist on my YouTube channel. You can access it via www.YouTube.com/TheBasementWorkshop, but if you can't find it on that channel, here is a link that should take you to it:
https://www.youtube.com/watch?v=NleMQdbV7WU&list=PLRaq2fWj05NO1X22awyPir__zUFKOqO6E
*******************************************************************
We used this book as a text for our students in grades 1-5: "One Small Square Cactus Desert" by Donald Silver. It has lots of great information– even parents will learn from it! It is easily found on at any online book selling site. Amazon also has used copies.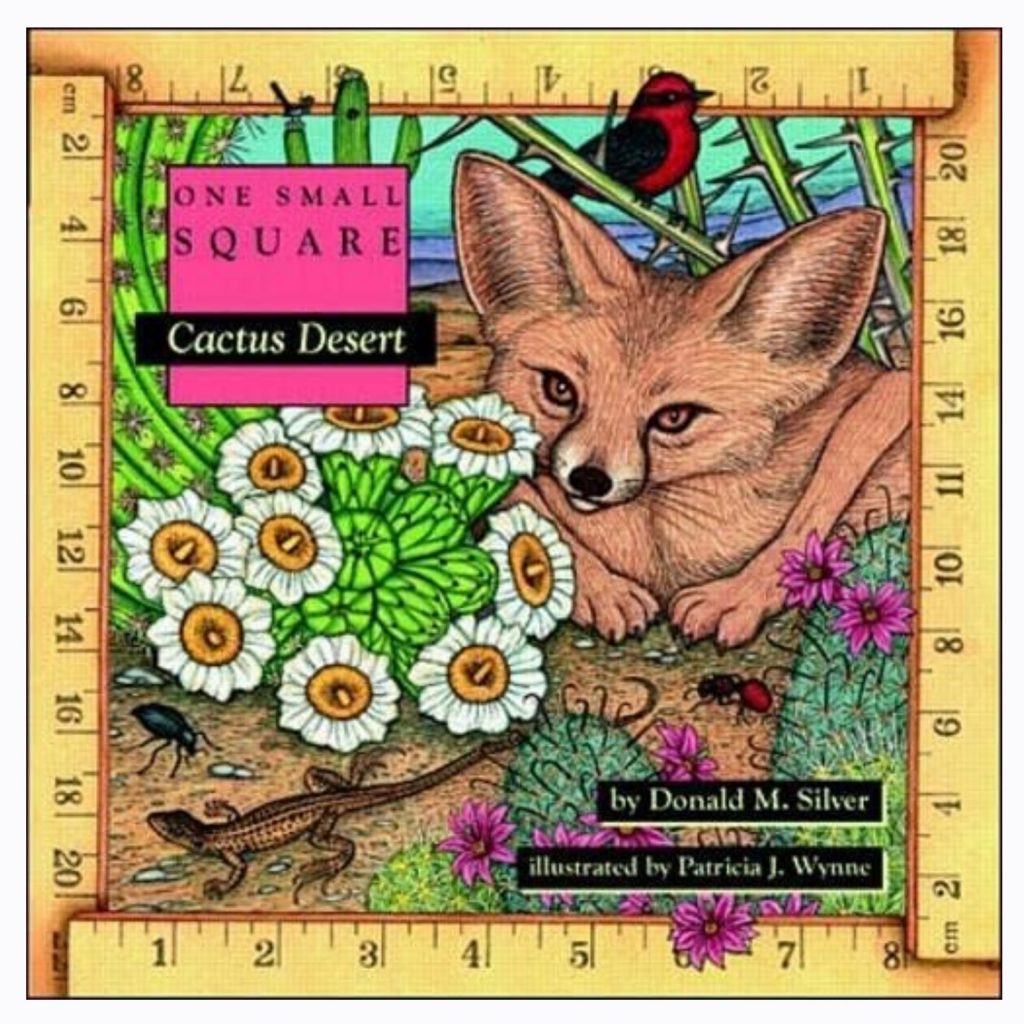 *******************************************************************
ACTIVITIES ABOUT DESERTS of the world:
Video drawing lesson: "Where are the deserts, and why are they there?" (52 minutes, for ages 10-16. You will need to download and print the template page.)
"Label the deserts of the world" a video drawing lesson. There are two versions, one where the student must all the writing, and one that has less writing.
ACTIVITIES ABOUT AMERICAN DESERTS (mainly Sonoran and Mojave)
"AMERICAN DESERTS SONG" Learn the names of the American deserts (Sonoran, Chihuahuan, Mojave, Great Basin) and a few key facts about each. (Best for ages 5 to 10.) This link will take you to a page with the audio track, lyrics to download, and a video of hand motions.
Color a long-nose bat pollinating a saguaro cactus at night (step by step video, uses colored pencil on black paper) You will need to feed black paper into your copier or printer. (Don't worry, the guidelines will be visible.) Scroll down the page till you see the link to the bat video.
Draw a saguaro cactus (step-by-step video drawing lesson, 50 minutes, includes printable template page (75 minutes, best for ages 10 and up)
Make a paper model showing how a saguaro cactus expands to take in water (Best for ages 6-10. Video demonstrates how to assemble it.)
"Draw a desert scorpion." (A video drawing lesson, 47 minutes)
Animal and plant survival paper pull-tab craft (Best for ages 7-10? Video demonstrates how to assemble it.)
Play the "Gully Washer" game. (Reviews basic info about types of desert animals, as you "rescue" them from being swept away by a flash flood.)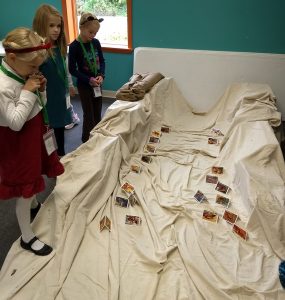 Card games about desert plants and animals (colorful picture cards with food web information in picture form). Various games for all ages.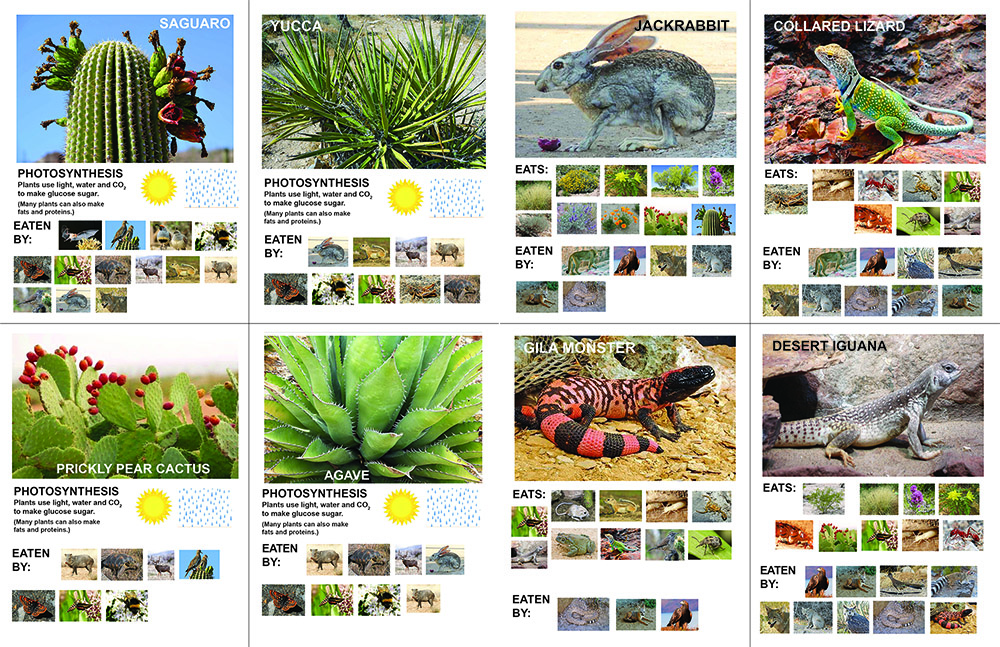 Demonstrate how a desert hare's ears help it cool off. Use two gallon size plastic bags. Put half a cup of very hot water into each. Put one flat on a table–the water will spread out through the bag. In the other bag, drain the water into one corner and put this corner into a small cup. Wait about ten minutes, then check the temperature of the water in each bag. The water in the spread out bag should be quite cool compared to the other. The spread out bag is like an animal's large ear (like the jack rabbit) and the water is like the blood. The large, flat ear allows the blood to cool.
Demonstrate the difference between how water and soil react to the sun's heat. Put a heat lamp over a bowl of water and a bowl of dirt. Allow them to sit for at least 15-20 minutes. Remove lamp and feel temp of each, or use a thermometer. Which is hotter? The dirt should have warmed up faster.
Do a relay race about bats pollinating saguaro cactus flowers. (Click on blue letters to go to the instruction page.)
MAKE A PRICKLY PEAR CACTUS construction activity. Use cardboard and acrylic paint to make single pieces that can be assembled into a prickly pear of any shape. There is a slit on the bottom of each piece so it can slip onto the top of another piece.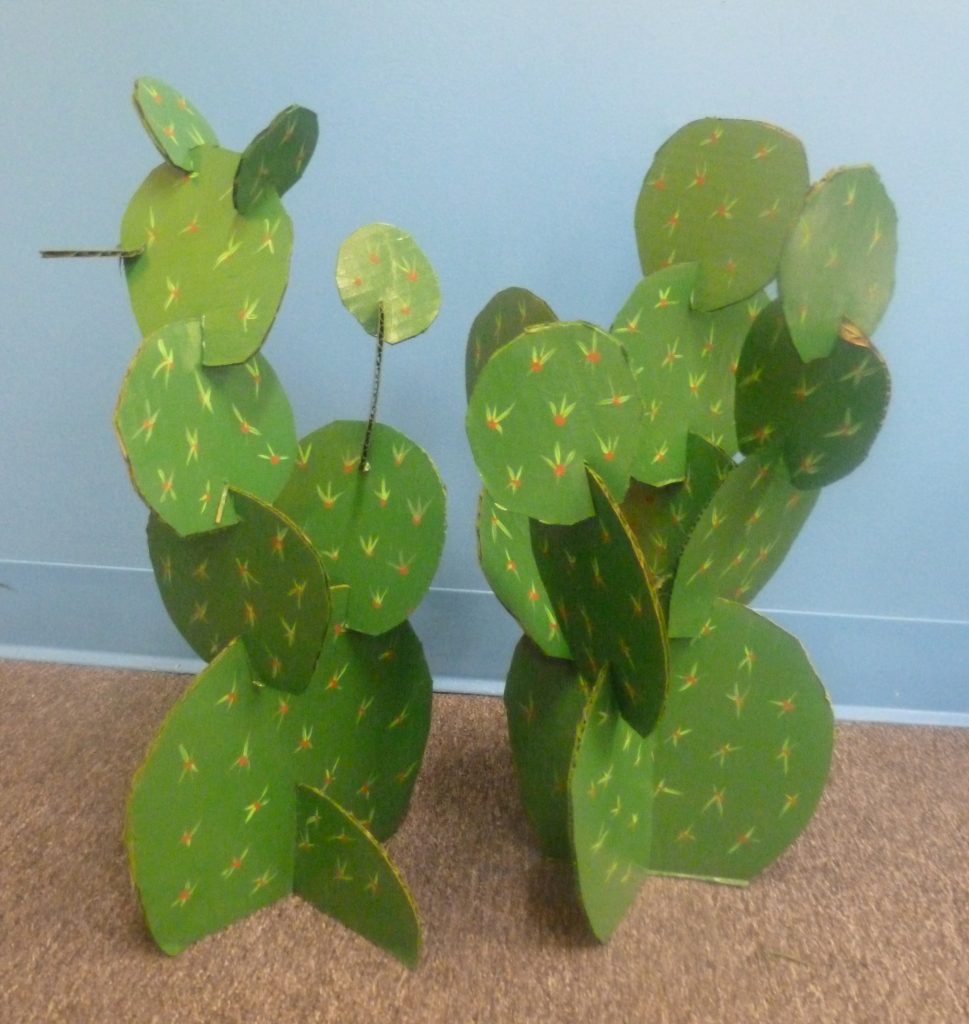 MAKE A MURAL OF OCOTILLO PLANTS Click on blue letters for instruction page.