Cut-and-assemble Paper Model of a Combustion Engine cylinder
joakman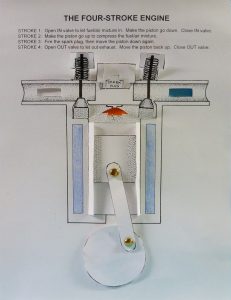 Purpose of activity:
To learn how combustion of fuel and air is used to power a piston in a combustion engine.
TO SEE HOW THE PROJECT WORKS, HERE IS AN ANIMATION ONE OF MY STUDENTS DID:
Target age group:
ages 9-14
Description of activity:
This is a cut-and-assemble project where students make a paper model that really "works."
Time needed:
This will take more time if you are working with a large group.  For a group of a dozen or more (and only one or two adults) allow about 40 minutes for ages 9-12, 30 minutes for 13 and up.  If you are working with just one or two students, you may be able to assemble it in 15-20 minutes.
NOTE: When I did this recently with my group 20 kids from ages 6 to 12, I did all the X-Acto cutting, and scissor cutting ahead of time, and it was still challenging for three adults to help that many kids get the model assembled. I was really glad I had spent the time doing the cutting prep work!!
Materials you will need:
Copies of the pattern pages printed onto card stock, scissors, X-acto knife with sharp point, white glue, tape, paper fasteners, colored pencils in red, yellow or orange, and light blue.