Cut-and-assemble Paper Model of a Four-Stroke Engine
joakman
Cut-and-assemble Paper Model of a Four-Stroke Engine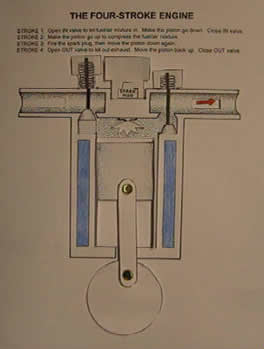 Purpose of activity:
To learn how a four-stroke engine works
Target age group:
ages 9-14
Description of activity:
This is a cut-and-assemble project where students make a paper model that really "works."
Time needed:
This will take more time if you are working with a large group.  For a group of a dozen or more (and only one or two adults) allow about 40 minutes for ages 9-12, 30 minutes for 13 and up.  If you are working with just one or two students, you may be able to assemble it in 15-20 minutes.
Materials you will need:
Copies of the pattern pages printed onto card stock, scissors, X-acto knife with sharp point, white glue, tape, paper fasteners, colored pencils in red, yellow or orange, and light blue.