Arctic Tern Craft and Cooperative Game
joakman
Arctic Tern Craft and Cooperative Game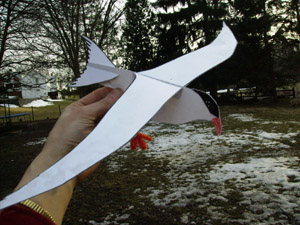 Purpose of project:
To learn about the arctic tern
Target age group:
Ages 5-10
Description of activity:
Students cut and assemble an arctic tern, then they use their bird in a role-playing game that simulates the migration of the tern from pole to pole.  This activity is designed to be used in a group situation.  However, the play could be adapted for home use.
Time needed:
For assembly of bird, at least 20 minutes.  For role-playing game, 30-45 minutes.
Materials you will need:
Scissors, glue stick, clear tape, copies of the tern patterns on card stock, snippets of green or tan yarn, an orange pencil or crayon, an orange (or yellow or red) chenille stem (those fuzzy "pipe cleaners" used for crafts)