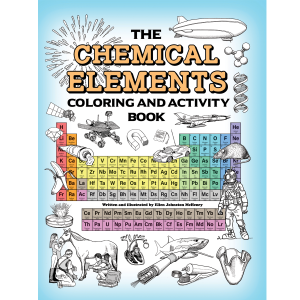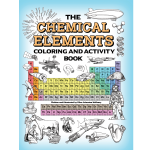 Chemical Elements Coloring and Activity Book (IN STOCK!)
$26.95
Description
ORDER THIS BOOK THROUGH YOUR FAVORITE BOOK DISTRIBUTOR
(listed below, or others connected to Ingram Distribution)
If you like this book, consider leaving a 5-star rating at the site from which you ordered.  This will help others discover the book!
Click here for BookDepository (free shipping worldwide)
Click here for ThriftBooks.com
This is a 300-page advanced coloring book, intended for middle and high school (and even adult).   Most elements have two pages.  One page gives historical information, explanations of how the element is used, and pictures of molecules.  The other page has coloring pictures that show how the element is used in industry, medical applications, military, and fine arts.  For heavy elements that have many fewer applications, there is just one page giving all this information.  Super heavy elements with almost no practical applications have just half a page each.

PLEASE NOTE that this book will be in PAPERBACK ONLY.  I am not going to distribute any digital copies, in order to try to avoid copyright infringement by black market publishers around the world.