Brain Hemisphere Hat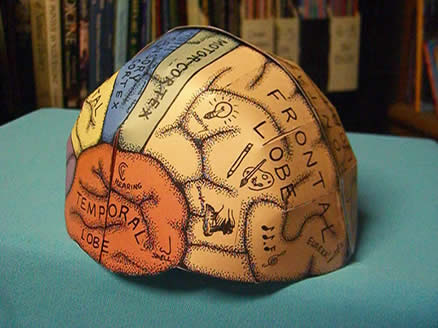 NOTE:  This is the now "world-famous" Brain Hat.  This humble little hat has been distributed around the world (even at some famous science museums) and has been translated into several different languages.  If you would like to translate it into another language (one you are fluent in) I would love to post some other language options at the bottom of this page  Please contact me about it!
Purpose of activity:
To learn about (or review) the major lobes of the brain by making a paper hat to wear
Target age group:
I designed this with ages 10-14 in mind, but it has been used with both younger and older audiences, even adults.  (The Science Museum in London used the brain hat as an adult activity.  It's also been used by a brain imaging company and several neuroscientists.)  If you are using it with kids younger than 10 they will probably need help assembling it.
Description of activity:
Cut and assemble a paper brain hat.
Time needed:
This depends on whether you are using a black & white or color version.  Obviously, if you are hand coloring the black & white one, it will take more time.  Just the assembly of the hat takes about 10-15 minutes for an adult, but more like 15-25 minutes for a student (and they often need help with the center seam).  If you are using this activity in a classroom, allow most or all of a class period to color and assemble.
Materials you will need:
Copies of the pattern pages printed onto card stock, scissors, glue, tape, crayons or colored pencils
Click here to download patterns for the Brain Hemisphere Hat
If your computer has issues about downloading the above file because it is too large, you can try one of these slightly smaller files:
Click here to download just the black and white patterns
Click here to download just the color patterns
BUT WAIT–THERE'S MORE!  WOULD YOU LIKE A SONG TO GO WITH THE HAT?
Check out "The Brain Song" in the music section of my store. The download gives you two versions of the song (one with vocals, plus a karaoke version), and also a coloring worksheet with a list explaining all the parts, and a crossword puzzle.
To hear the first part of the song, click on this link:
When you're ready to purchase, just click on the STORE tab above or use this link:
Link to "Brain Song" page in STORE
And there's even more…
Would you like an entire curriculum on the brain?  For an instant digital download of the curriculum, go to the estore and click on "The Brain" products.
And…
…there's a YouTube playlist that goes along with the curriculum but you can access it for free even without buying the curriculum.  Just go to www.YouTube.com/TheBasementWorkshop and then click on Playlists and then find The Brain.
BRAIN HAT in other languages: