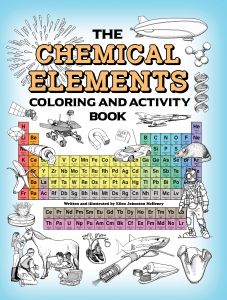 NEW!     This 300-page coloring book isn't just for students who like to color; it also makes a great reference book.  It is full of interesting facts about the elements, explanations of how atoms and molecules work, anecdotes about how the elements were discovered, and details about how each element is used in industry, research, military and fine arts.  PLUS, you get some word puzzles, as well as picture cards for each element and instructions for how to play several games with them.  The last section is a question bank, giving easy, medium and hard clues that you can use for many games.  This title will NOT be available as a digital download, only a printed paperback.  Due to potential high volume of sales, I will be letting online book distributors do the packaging and mailing for me.  Just go to your favorite book outlet (Amazon, Barnes&Noble, BookDepository, BooksAMillion, etc.), type in the title and my name, and it will pop right up.
Welcome to my world of

EDUCATIONAL INVENTIONS!
This site really is like putting my basement online.  One by one, I am working my way through the stacks of things sitting on my shelves, digitizing them, and posting them for anyone who might find them useful.  Individual items are posted as FREE DOWNLOADS.  I've also written some full-length curricula (during my years teaching science to classes of homeschooled kids ages 8-14) and they are available in the STORE.  You can also snoop around and find out some others things I've done or am currently working on.  Happy browsing!
Visit me on MeWe:  https://mewe.com/p/ellenmchenrysbasementworkshop